Remembering Carrie Bradshaw's style
It's no secret I'm a big Sarah Jessica Parker and Sex and the City fan. I don't know why I've been thinking so much about the show lately; SATC ended ten years ago. I guess it's because SATC is still relevant for the role it played in showcasing women on TV. It also continues to be relevant for the fashion.
Some of the looks SJP and Patricia Field, Sex and the City's costume designer, put together for Carrie are just as, if not more so, trendy and fashion forward now as they were then. Carrie's fashion was sometimes out-there, but it will always be classic.
The good
Here are some of my favorite Carrie looks from SATC's six seasons: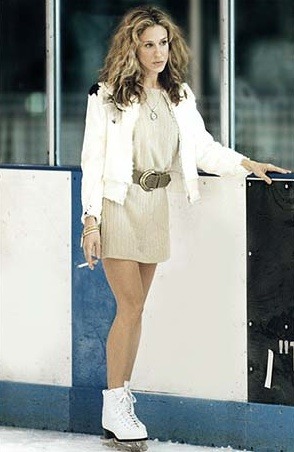 Ankle booties, wrap dresses, hats, crop tops, menswear, vintage, florals and of course, heels with everything. Carrie knew how to dress up...and down...always with cutting edge style. Many of these trends are just emerging now.
The bad
On the other hand, some of the style went too far over the edge. I always preferred Carrie's classic looks that had a little edge to her kooky street looks that were uber revealing or just didn't make sense. I love that SJP and Patricia Field took risks. The outfits were meant to cause a stir. But some paid off; some didn't (IMHO).
Here are some of Carrie's looks I could have done without:
Good or bad, SJP and Patricia pushed the envelope of fashion. Some of the pieces were designer; some were vintage. Together they created the fashion icon that was Carrie Bradshaw.
I miss her (sniff sniff).